Roll Forming Line for Scaffolding Plank
Description
Scaffolding is a temporary working platform to ensure the smooth advance of a variety of construction processes. Scaffold deck provides a solid standing surface for working platform. Compared with other scaffolding, steel scaffold deck has better loading capacity, longer service life, along with ease of mounting and dismounting.
Our scaffold deck roll forming machine allows for quick forming of 0.6-2.0mm thick steel coils. Configured with punching device and post-shearing system enables to produce scaffold decks with various ideal lengths. Full forming speed at 10m/min. High precision rollers ensure the final products' accuracy, and the use of Siemens or Mitsubishi operating system makes it easy to operate, which enhance production efficiency while guaranteeing quality.
In addition, we can customize the very scaffold deck roll forming equipment corresponding to your requirements on the profile, material and so on.
Specifications
Machine Specifications
Weight
About15000kgs
Install Size
About 20m × 1.7m × 1.5m (length × width × height)
Color
Main color: green
Warning color: yellow
Suitable Raw Material
Material
Steel coils
Thickness
1.6-2.0mm
Yield strength
235Mpa
Main Technical Parameters
Quantity of forming roller stations
16
Diameter of forming roller shafts
80mm
Roll forming speed
10m/min
Forming roller material
GCR15steel, coated with quench heat treatment
Cutter material
CR12 mold steel, with quench heat treatment
Control system
PLC and converter
Electric power requirement
Main motor power: 15kw+22KW
Hydraulic unit motor power: 5.5kw
Electric voltage
According to customer's requirement
You Can Choose the Common Profiles Below or You Can Customized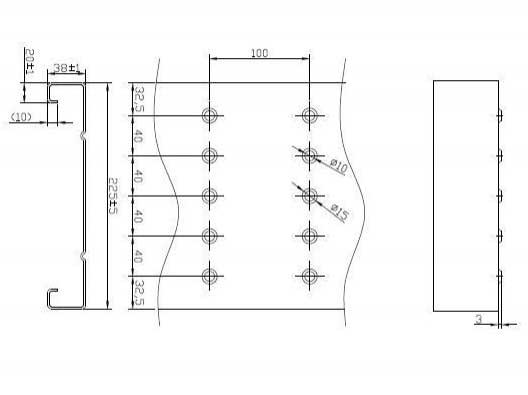 Uncoiler
Punching machine
Servo Feeding Device
Motching device
Roll forming systen
Post cutting device
Gallery